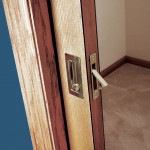 We have had quite a few requests to repair pocket doors lately so I thought I would offer a solution to one of the most common problems. Some doors were never hung correctly in the first place. Most of the older doors have cheap 1 track hardware and poor wheel systems. The most common problem we see is the older door that is difficult to move or won't pull out of the pocket at all. I will describe a brief outline for the best remedy for this problem and hopefully in the future I can post a more detailed breakdown. This solution involves replacing the lousy single track and roller hardware with a double track and quad roller hardware. There are cheaper fixes but you will continue to have problems unless you do a full replacement.
First, remove the pocket door altogether. Second, cut a hole in the wallboard (cut a nice square piece and save it) in the pocket door side of the wall (where the door slips in) about 2 feet by 18 inches near the top of the door. This hole will allow you to remove the steel track inside the door. Get your replacement track and hardware from Johnson Hardware. Use this link.
Replace the track and roller hardware. Reinstall the door and adjust the rollers so the door fits evenly against the jamb. Reinstall the drywall wallboard you cut out and patch and paint.
If you're kind of handy and have a few tools, you can do this. If not, hire a reputable contractor or handyman to do the job for you. Remember, replacing the rollers on an older door will only jump off the track again when someone opens the door to hard. And if someone wants you to replace the entire door and frame find someone else to just replace the track. The door will glide like a brand new door and you will never have to think about it again. Good luck.