Let's say it's a certain time of year and 1 or 2 of your interior doors has started to stick or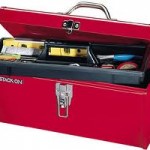 won't open or close properly. Or, perhaps it's a small drip under the sink. Maybe a board is loose on the fence. Whatever home repair problem may occur, having a small home tool kit can solve many of those home repair problems quickly and easily.
The first you'll need is a small to medium sized tool box. Nothing fancy, a durable plastic toolbox from the home or hardware store will do. Keep all your tools in this one box and you'll always have everything you need when you need it.
Here's what you'll need to start. A claw hammer. A 12 foot tape measure. A multi- tip screwdriver. A small cordless drill and small drill set, 5 or more bits. An 8″ level. An adjustable Crescent style wrench. A channel lock style wrench. A vise grip style wrench. An 8-12 inch saw with interchangeable wood and metal blades. Duct tape and a small can of WD40. Sometimes you may need to buy a tool not in your set but it will be worth it.
Put all these tools in the kit, take a quick trip to YouTube to see how to fix the problem then enjoy the feeling of solving the issue yourself without having to hire someone to do the job for you.